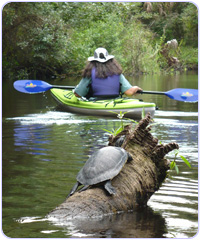 Professional outfitters and paddlesport retailers with an interest in offering services and goods to the paddling public are invited to join the Florida Professional Paddlesports Association.
We meet two times times a year at one of our member's locations and enjoy paddling, food, friendship and the exchange of ideas on how to make our businesses and our sport more attractive to the public. Meeting are the second Monday & Tuesday of the month in February and September unless there is a conflict with a holiday. In February, we meet in the southern half of the state and in September the meeting is in the northern half. On Mondays, we paddle the host waterway and on Tuesdays, the business meeting is conducted. Dues are due by the business meeting in February.
$100 is the base amount for membership with $10 for a 4-color ad on the FPPA website for a total of $110. You can elect not to have the $10 ad.
Membership Benefits
Here are a few of the many reasons why you'll want to join the FPPA:
Apply for Membership in FPPA
Membership in FPPA for paddlesport outfitters and retailers costs $110 annually which includes development and display of an ad on the www.paddleflausa.com website. See upper right column for ads. To join, please download the following Adobe Acrobat Reader document, complete the information in the application and mail your check to the address listed on the application. We will contact you by e-mail upon approval and send you information about your Florida Professional Paddlesports Association membership. Have questions? Contact outfitter@paddleflausa.com. FPPA will be adding Associate Membership capabilities shortly. Please check back if you are a paddlesport manufacturer or other related industry vendor interested in associate membership or e-mail outfitter@paddleflausa.com.
Mailing Address:
FPPA
P.O. Box 1764
Arcadia, FL 34265